Senator Koko Pimentel welcomed us to the Philippines with a joke. When he found out that we were from Columbia Business School, he smiled and said that he personally knows nothing about business and economics, but perhaps we can help him during our meeting. We all laughed. Sen. Pimentel is one of the most powerful politicians in the Philippines, the leader of the ruling party PDP-Laban and a political ally of President Rodrigo Duterte. But as Sen. Pimentel answered our questions it was clear he wasn't really joking.
Senator Pimentel had plenty of insight into political corruption, party politics, and the war on drugs, but when it came to economic development in the country, the Senator essentially shrugged. When we asked about how to create more bank accounts for the country's poor, he said he thought there was already a program somewhere in the central bank. We we asked his plan to get more foreign investment in the Philippines, he said he didn't see why foreign corporations aren't satisfied with a minority 40% stake in Filipino ventures. You have to understand, he said, that in Philippines political parties compete on how to battle corruption, not on sophisticated tax and economic plans.
This lack of a consistent government policy on the country's economy came up in our official meetings with Filipino corporations and in private conversations. No business leader directly criticized President Duterte or any politician by name, but the frustration was evident. In order to do anything big and meaningful in the Philippines you have to deal with the government, but such deals hold enormous risks. On our last day in the country, President Duterte threatened to throw executives from private water companies in jail "in one night" if they refused to accept new contracts from the government. He said the executives would rot there for 30 years.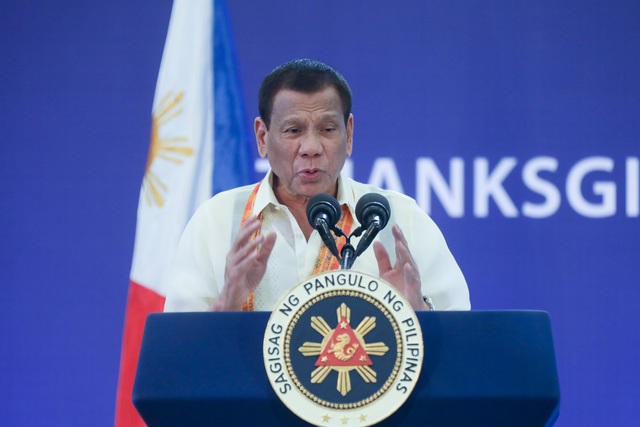 Duterte and the water companies have been fighting over contracts for months, with Duterte threatening them not just with jail time but with a full takeover of the companies. Local news site, the Rappler, quoted Duterte:
"But I tell you, you better sign the contract – this is good for the Filipino people. You do not sign it, I take over your operations sa water distribution. I will nationalize the water in my country," the President said, earning him applause from the crowd.
Earlier in the week, we met with the CEO of the Ayala Corporation, Jaime Augusto Zóbel de Ayala (he goes by JAZA). Although he was not personally named by Duterte, the Ayala Corporation owns Manila Water, one of the concessionaires threatened by the President. JAZA tiptoed around the issue when he was discussing future investments of the company.
When I asked if it was worth the risk to make deals with government, JAZA said that in order to fulfill the vision of the Ayala Corporation, they had no choice. Ayala is a large land-owner and developer, a banking company and a builder of infrastructure, all lines of business that have massive government involvement and regulation. JAZA said that in order to do pursue big projects to help the Philippines, you have to be comfortable working with government agencies. As an example, he cited a recent private consortium the company put together to work with the government to redevelop the Manila Airport.
For some businesses we met with, the clear answer to dealing with the government is to not wait for politicians to solve problems. We spent time with a start-up called Mynt, which makes a popular Filipino mobile-banking app called GCash. The Philippines lacks a lot of the financial infrastructure to make mobile payments and loans easy, so Mynt went ahead and built their own.
Mynt CEO Anthony Thomas told us that the Philippines doesn't have a national credit scoring system like the United States and so the company had to develop their own proprietary credit score for their customers in order to offer loans and credit services. Likewise, while the Philippines government is in the process of trying to implement a national ID system, Mynt went ahead on its own and developed a way for its customers to verify their identity using the app and forms of local ID. Start-ups need to move faster than governments ever can.
The Duterte government does seem to know it has room for improvement in its relationship to Filipino businesses. It recently created an Anti-Red Tape Authority and the country rose in the World Bank's Ease of Doing Business Report, from 125th to 95th place in the world. The Philippines score improved in the areas of starting a business and paying taxes, but the report says that the country's entrepreneurs still struggle with getting credit and enforcing contracts.
Robert Smith is a 2020 MBA candidate at Columbia Business School